Scrum is a subset of Agile. It is a lightweight process framework for agile development, and the most widely-used one.
A 'process framework' is a particular set of practices that must be followed in order for a process to be consistent with the framework. (For example, the Scrum process framework requires the use of development cycles called Sprints, the XP framework requires pair programming, and so forth.)
'Lightweight' means that the overhead of the process is kept as small as possible, to maximize the amount of productive time available for getting useful work done.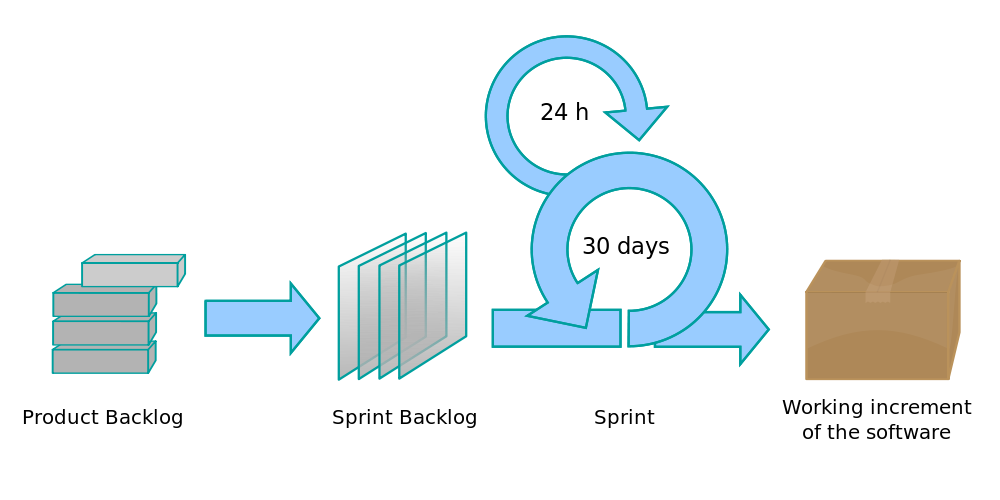 Scrum Ingredients
Artifacts: things (kanban board, product backlog)
Roles: what people do
Events: types of meetings
Priority
Transparency:

Of work in progress;
On product backlog (work to do)
Meetings: Only 5 easy meetings
Simplicity: 3 types of roles in the team

Fixed timelines: iterations, sprints.
Strong product vision (evolution);
Flexible scope in the iterations
Are you ready to see the overview of Scrum?
Team characteristics
Ideal team size: 7 (+/- 2): link to research on team size
Collocation: team in same room
Dedicated team members: work mostly/only with this team
Cross-functional: team members have different backgrounds and should be able to do each other's work
Scrum Artifacts / Artefacts
Product Backlog
Sprint Backlog
Burn-down chart
User Stories
And (possibly):
Scrum: Artifacts: Product Backlog
List of User Stories.
The requirements for the product are listed in the Product Backlog.
It is an always changing, dynamically prioritized list of requirements ordered by Business Value.
Requirements are broken down into
User Stories by the Product Owner.